I am a writer, photographer and radio show co-host. My husband Steve and I live on a 45 acre homestead in the Maine woods. Our daughters Kristin and Taylor have grown and flown, leaving behind an empty nest…if it weren't for the dogs.
Freelance Writer, Editor, Photographer
Robin has been a freelance writer, editor and photographer for two decades. Her work appears in gardening, homesteading, farming (Lancaster Farming, Farm & Garden, Quoddy Tides) and outdoors newspapers and magazines (Outdoors Unlimited, Bangor Daily News, 1800Gear, 1800gunsandammo, The Liberty Project, to list a few).  I've stopped freelance writing and photography in order to finish a memoir, and my current work appeared only in my monthly column for Maine Woodland Owners. My time as a columnist has ended but I'm staying on at MWO as a feature writer. You may read A Life In The Wild, my blog about food, homesteading, and being an outdoors woman in Maine.
Radio
On The Fire, a radio show focused on uncomplicated yet delicious food everyone can cook. The show airs as part of Big Wild Radio from the midwestern United States to Australia. My love of radio was sparked by guest appearances on Writer's Forum, MPBN's Maine Calling, Maine Outdoors and other programs. You may listen to Big Wild's podcast to hear about the latest activities in hunting, fishing, camping and cooking.
Awards
My awards include a Maine Press Association award for my BDN blog Robin's Outdoors, recognition by FEMA for reporting on conditions during major flooding, and occasional photography contests.
A Love of the Outdoors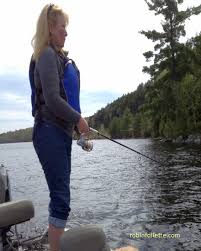 The outdoors is the base of my life. Steve and I wild harvest, hunt, fish and garden for most of the food we eat. As an outdoors educator I ease children and adults into a comfort zone, and then helps them expand step by step out of that zone.
"Bored people are boring people. I never want to be boring." ~Robin Follette
I live in a tiny town, population 60, that has three miles of paved road. We  share our forest with white-tailed deer, moose, bobcats, coyotes, black bears, too many red squirrels, and a short-tailed weasel (ermine in the winter) that lives in the wood shed. Ziplining and riding a water buffalo on a rice farm in Asia when I was a pre-schooler were strong starts to outdoors adventure.
Save
Save
Save
Save
Save
Save